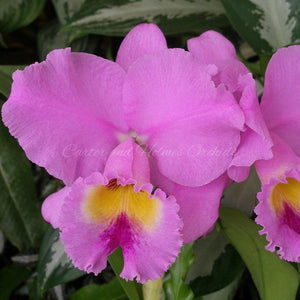 Blc. Spring Dawn 'Top Row'
An oldie but a goodie from the Rod McLellan Company. This hard to find clone was originally a cut flower producer but in more recent years has found a home in collections as a gorgeous fall flowering lavender. Large, richly colored blooms with a smooth texture appear above strong, upright foliage. Very fragrant and has shown good potential as a breeding parent.
Limited quantity of Near Blooming Size plants in 4" pots.
 Unless otherwise stated, please understand that bloom photos show mature sized plants not what those offered currently look like.
| | |
| --- | --- |
| SKU | 9087M/40 |
| Pot Size | 4" pot |
| Alliance | Cattleya |
| Limited Edition | No |
| Plant type | Mericlone |
| Bloom Color | Lavender |
| Expected First Flowering | These plants will be flowering size in approximately 12 months years or less |
| Fragrant? | Extremely Fragrant |
| Light Requirements | Bright, Indirect Light |
| Size Expected at Maturity | Standard- Large growth habit, at least 15"-18" tall, excluding flowers |
| Blooming Season | Fall |
| Suitable for Windowsill or Under Artificial Lights | No |
| Temperature Requirements. (Based on Carter & Holmes Orchids recommendations for plant growth) | Intermediate/Warm Grower- This plant can tolerate a range of temperatures from 55-90 degrees with adequate humidity and airflow. |
| | |