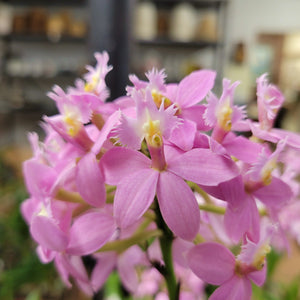 Epi. Miura Valley
(Epi. Miracle Valley x Epi. Cream Valley)
Not quite dwarf variety of reed-stem Epidendrum.  This darling makes a 'pom-pom' of pale pink blooms on sequential flower stems.  Upright canes with very pretty foliage.
Growing Suggestions: Will be happiest when grown in conditions similar to those of Standard Cattleyas.  Bright, indirect light and temperatures between 60°-85°.  Water when media is dry and provide good humidity.

We have big beautiful plants with spikes and buds in 4" pots.  
These beautiful plants were provided by our friends at a wholesale orchid nursery in Hawaii. Because we did not raise them in our greenhouses, we can not guarantee them to be virus free as we would our own lab grown material. Otherwise, we guarantee your satisfaction and safe delivery as with other plant purchases.