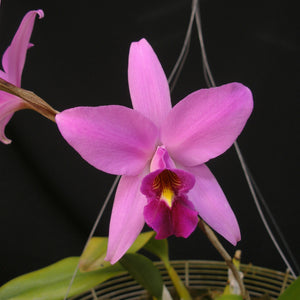 Laelia anceps 'Mendenhall' AM/AOS x self

Laelia anceps is a hardy growing species that hails from regions of Mexico up through southern California.  While young plants will need to be kept in temperature controlled growing conditions, mature plants will grow in a wide range of conditions.  Very, bright indirect light will be needed for the best blooms and sturdy foliage. Not suggested for indoor or windowsill collections because of light requirements and mature size. Great for warm growing climates and outdoor collectors. 
The seedlings from this awarded parent will have smooth dark lavender blooms and crystalline texture.
We are offering plants in 2.5" pots. These will reach flowering size in approximately 2 to 3 years or less.
| | |
| --- | --- |
| SKU | 10308/10403/25 |
| Pot Size | 2.5" pot |
| Alliance | Cattleya |
| Limited Edition | No |
| Plant type | Species |
| Bloom Color | Lavender, Pink |
| Expected First Flowering | These plants will be flowering size in 2-3 years |
| Fragrant? | Not Fragrant |
| Light Requirements | Bright, Indirect Light |
| Size Expected at Maturity | Standard- Large growth habit, at least 15"-18" tall, excluding flowers |
| Blooming Season | Winter |
| Suitable for Windowsill or Under Artificial Lights | No |
| Temperature Requirements. (Based on Carter & Holmes Orchids recommendations for plant growth) | Intermediate/Warm Grower- This plant can tolerate a range of temperatures from 55-90 degrees with adequate humidity and airflow. |
| | |