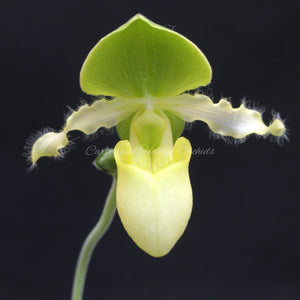 Paphiopedilum Avalon Mist
Bred from primulinum and glaucophyllum parentage, these are  sequential bloomers. They will produce new buds on the end of the flower stem for months on end. Compact foliage is a medium green, with slightly rippled edges.  Blooms on this now famous hybrid are in shades of soft yellow, with slightly darker petals contrasting the pale pouch.
Plants available in 2.5" pots.
PRODUCT INFORMATION
ITEM NUMBER
10447/25
POT SIZE
2.5" pot
ALLIANCE
Paphiopedilum
PLANT TYPE
Hybrid (Seedling)
BLOOM COLOR
Yellow
EXPECTED FIRST FLOWERING
These are expected to to reach flowering size 1-2 years
FRAGRANT?
Not Fragrant
LIGHT REQUIREMENTS
Medium Indirect Light
SIZE AT MATURITY
Compact
BLOOMING SEASON
Various
SUITABLE FOR WINDOWSILLS?
Yes
TEMPERATURE REQUIREMENTS
Intermediate Grower