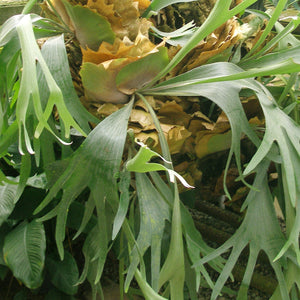 Staghorn Fern
Platycerium bifurcatum
Native to bright, rainforest areas of New Guinea, Australia and New Zealand where they grow attached to large trees. This species grows quickly and has large green fronds covered in silver fuzz. Best suited for growing outdoors in warm climates, or indoors in sun rooms and greenhouses.  This is the classic and easy to grow species that is so very popular!
Care Suggestions: Allow media to dry between watering to avoid root rot. Fertilize lightly once per month. Bright indirect light is best. Generally prefers temperatures of 55° or above but mature plants can tolerate short dips in the 40's without damage.
Our current crop is outgrowing 3" pots with beautiful foliage. These plants have been produced from spores harvested from our very old specimen plant.