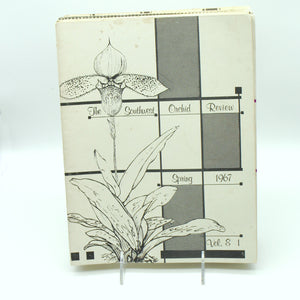 *
Southwest Regional Orchid Growers Association
(The Southwest Orchid Review)

Orchid Society Bulletin
Published by the SWROGA
Texas

This bundle includes the following issues: Fall and Winter (x2) 1965, Spring, Summer, Fall and Winter 1966, Spring, Summer, Fall and Winter 1967.  Eleven bulletins total
All Black and White inside. Sketches only, no photographs.

Overall dimensions each are 11" x 8 1/2". Bound with staples.
Condition as expected given age.  Moderate wear and foxing on covers.  All pages attached with exception of Fall 1965 cover, which has pulled loose from staples. 
Shipping costs will be determined by location after purchase.  To prevent damage, this item can only be shipped with similar store items.