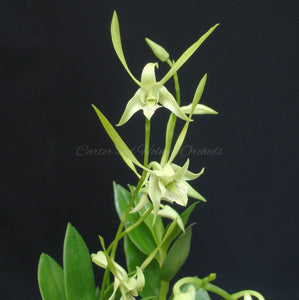 Dendrobium archipelagense
This unusual species was only discovered within the last twenty years and not much is known about its native growing conditions.  The name is in reference to being endemic only to the Bismark Archipelago, a group of islands off Papua New Guinea.  Despite being a newcomer, we know this species will soon find its way into many collections.
The growth habit is very dense, with tight upright canes showing many pairs of thick pointed foliage.  The 'antelope' style blooms are a vivid concolor green, with faint purple veining visible on the throat. Each flower is about two inches long, and mature plants will carry as many as eight to nine per inflorescence.  Main flowering season is fall to winter, though some growers have reported blooms appearing year round.
Growing Suggestions:  Dendrobium archipelagense is considered a warm to hot grower, which means nighttime temperatures can be as warm as 85° and the plant will  still thrive. Lots of airflow, and bright, indirect light similar to standard cattleya conditions will be best.  Like many Dendrobiums, this species should only be repotted in spring on new growth, and a very well-draining media is best.  Plants should be watered and fed very regularly during the spring and summer with lighter watering and food during the fall.  Winter means much less watering though not a total rest period is required.  
These plants are seedling sized and established in 2.5" pots.