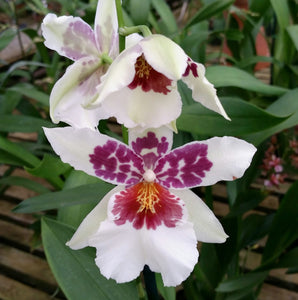 Beallara Big Shot 'Hilo Sparkle'
(Bllra. Tahoma Glacier x Milt. Maui Titan)
Lovely growing plants have arching stems of off-white blooms with clusters of purple freckles near the center.  Large flowers, similar to most Beallaras.
Growing Suggestions: Plants prefer intermediate temperatures, 65-85 degrees with good air flow moving over the foliage. Give medium to bright, indirect light and water approximately every 5-7 days in their current pots.
11/30/23- Plants are currently in bud stage to bloom in the coming weeks.  Sent in 4" pots.

These beautiful plants were provided by our friends at a wholesale orchid nursery in Hawaii. Because we did not raise them in our greenhouses, we can not guarantee them to be virus free as we would our own lab grown material. Otherwise, we guarantee your satisfaction and safe delivery as with other plant purchases.