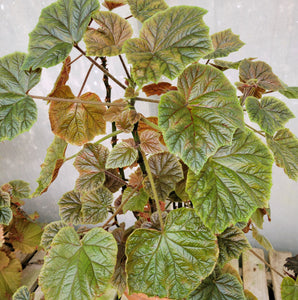 Begonia 'Emerald Glow'
The growth habit on this beauty is somewhere between a reed style and a compact shrub style. Either way this is one you must have for your collection. Matures to about 18" tall, and eventually makes a stunning specimen with multiple upright stems.  Dark and light green textured (rippled) foliage.  Warm weather brings out the best foliage coloring with winter encouraging more olive green shades.  Prune occasionally to encourage strong upright growth.

Growing Suggestions: We suggest this as a warm grower, usually at 65° or above year round. Avoid cold water and drafts during the winter.  Spring brings forth a flush of new growth as well as the showy pink blooms.
New crop available grown from stem cuttings.  Established in 4" pots.