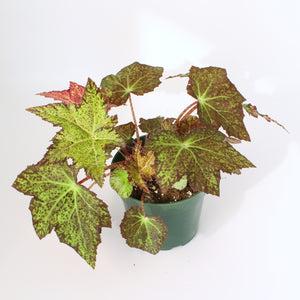 Begonia 'Little Beaver'

This rhizomatic hybrid has maple shaped green foliage covered in reddish-purple shading. In cooler weather more tan and bronze shading is visible.  Stems are a bold rhubarb red.
Care Suggestions: Allow media to dry between watering and fertilize lightly once or twice per month. Bright indirect light. Generally prefers minimum temperatures of 60° as colder temps can cause leaf problems.
New round of plants established in 4" pots.  Photo shows current plant size.