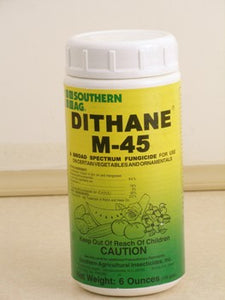 Dithane M-45
• Labeled for many exotic ornamentals such as African
Violets, Ferns & Dendrobium Orchids
• Preferred by many rose growers for Black Spot
• Commonly used in the commercial
production of tomatoes, squash & melons
CONTAINS: 80% Mancozeb
USE ON: Many ornamentals, vegetables (potatoes, corn, squash, cucumber, melon, and papaya)
CONTROLS: leafspots, rust, botrytis, anthracnose, early and late blights, and downy mildew.
Fungicide/Bacteriacide USE ON: Ornamentals: Carnations, Dahlias, Iris, Pansies, Roses, Zinnias, Azaleas. Lawns and Turf. Vegetables: Tomatoes, Potatoes, Squash, Cucumbers and Melons. CONTROLS: Leafspots, Rust, Botrytis, Anthracnose, Early and Late Blights, and Downy Mildew. Turf: Brown Patch, Dollar Spot, Phythium, and Fusarium Blight.

Our Suggestions:  We have used this as a foliar spray to help prevent pseudomonas in the damp winter months.  Very effective on ladyslippers and Phalaenopsis.  Also, can be applied in powder form to recently divided plants where the cuts are visible.  Used in paste form as a spot treatment for soft rot on plants like Phalaenopsis.
6 oz. (by weight)