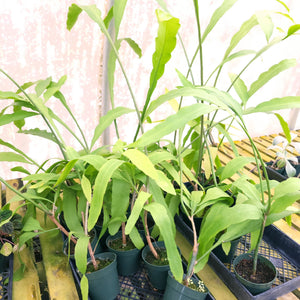 Epiphyllum, Night Blooming Orchid Cactus
So this is not really a cactus and its definitely not an orchid so where the name comes from is a mystery.  But this unusual offering will be beautiful with highly fragrant and showy flowers.  Colors in this genus range from white and yellow to reds and pinks.

Another mystery?  What these blooms will look like!  We received a bunch of cuttings, second-hand from a customer who didn't know what color the blooms are.   We have spent the last three summers growing these and now they are popping out of 3.5" pots with super long foliage (30"+).  
Care Suggestions: These will need very bright, slightly diffused light similar to Standard Cattleyas and Vandas.  Water when the media reaches the dry point and fertilize lightly.  We avoid temps below 50° to prevent foliage damage but mature plants can be somewhat cold (not frost) tolerant.  Great for hanging pots or containers. 

Plants are growing in 3.5" pots but ready for larger this summer.  Mystery bloom color!   Shipping will be higher on this item due to the foliage.  Very limited