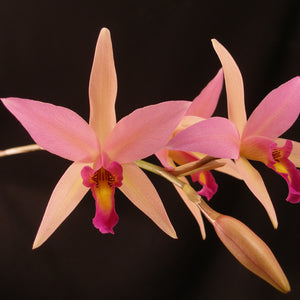 Laelia Santa Barbara Sunset 'Showtime' AM/AOS
(L. anceps x L. Ancibarina)
This warm grower shows strong influence from Laelia anceps, with long arching stems and thick foliage.  Beautiful, multi-toned blooms with shades of peach, rose and yellow appear in mid-winter.  Can be grown potted or mounted with good success.  Likes bright conditions and plenty of drainage around the roots. 
We are offering Blooming Size plants growing well in 4" pots.  Plants are expected to flower within 12 months. 
These beautiful plants were provided by our friends at a wholesale orchid nursery in Hawaii. Because we did not raise them in our greenhouses, we can not guarantee them to be virus free as we would our own lab grown material. Otherwise, we guarantee your satisfaction and safe delivery as with other plant purchases.