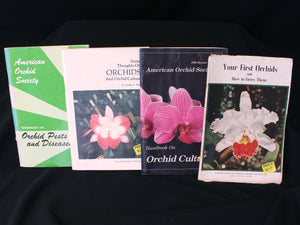 Bundle of Four Vintage Orchid Manuals

This group includes one each of the following books on Orchid Care and Culture.
All volumes are in fair condition, and have been well read.
* Your First Orchids and How to Grow Them- A publication of the Oregon Orchid Society. 1961
* Handbook on Orchid Culture- American Orchid Society. 1988
* Some Thoughts on Orchids and Orchid Culture- Douglas R. Allen. 1975
* Handbook on Orchid Pests and Diseases- American Orchid Society. 1975
Shipping costs (including insurance) will be determined by location after purchase.  To prevent damage, this item can only be shipped with similar store items.