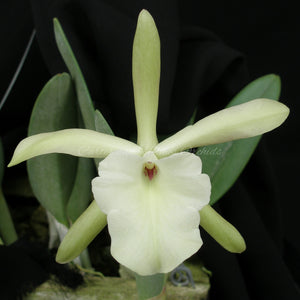 Brassavola glauca x self

Synonym Rhyncholaelia glauca.  Native to areas of southern Mexico and down through Central America.  This species is great for beginners and can be grown into impressive specimens in low, shallow pots or hanging baskets. Blooms are very waxy and long-lasting in shades of cream/green blushed with tan.
Growing Suggestions: Suggested as an intermediate to warm grower with lots of airflow. Bright, indirect light is best with as much light as possible when they are mature.  As long as the foliage does not heavily blush, the plant is not receiving too much light.  This species prefers a distinct wet/dry cycle and roots must be allowed to dry out between waterings. During the coldest months, we allow the pots to become quite dry, instead choosing to mist heavily on sunny days. 
These plants are seedling sized and established in 2.5" pots.  
| | |
| --- | --- |
| SKU | 10483/25 |
| Pot Size | 2.5" pots |
| Alliance | Cattleya |
| Limited Edition | No |
| Plant type | Species |
| Bloom Color | Cream/White |
| Expected First Flowering | These plants will be flowering size in 1-2 years. |
| Fragrant? | Not Fragrant |
| Light Requirements | Bright, Indirect Light |
| Size Expected at Maturity | Compact- Plants mature to 8"-12" or less, excluding spikes.  |
| Blooming Season | Winter/Spring |
| Suitable for Windowsill or Under Artificial Lights | No |
| Temperature Requirements. (Based on Carter & Holmes Orchids recommendations for plant growth) | Intermediate/Warm Grower- This plant can tolerate a range of temperatures from 55-90 degrees with adequate humidity and airflow. |
| | |